request becker pumps
latest Catalogue
ANAESTHETIC GAS SCAVENGING SYSTEM - AGSS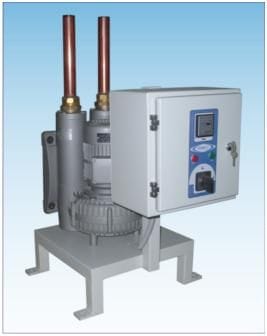 The Anesthetic Gas Scavenging System is used to remove anesthetic gases directly from patient connection of Anesthesia Machine by means of Air mixer, AGS outlet pipeline and AGS Exhauster to provide clean and free Anesthetic Gases environment in Operation Theaters.
A scavenger system is a medical device used in hospitals. It is used to gather gas or aerosolized medication after it is exhaled from the patient or left the area of the patient. Often used to collect anesthesia, it can also be used to collect any type of gas or aerosolized medicine that is intended only for the patient and should not be breathed in by any other medical personnel.
The use of scavenger systems in operating rooms is to prevent the anesthesia from leaking away from the patient or anesthesia system and flooding the operating room. When using the aerosolised medicine Ribavirin, the scavenger system prevents the spread of it away from the patient area; Ribavirin can have serious side effects and people may build up immunity to it quickly, hence the use of the scavenger system.
Stand alone Anesthetic Gas Scavenging System (AGSS) manufactured by Becker Pumps Australia use Becker Side Channel Vacuum Pumps.
The general specifications are below but you can always find out more by clicking here.

Becker anesthetic gas pump convey air, other non-explosive gases and non-explosive gases mixtures absolutely oil-free at gas ambient temperatures up to 40°C
The Becker Anaesthic Gas Scavenge System

Built to Australian Standard AS 2896

MEETS AUSTRALIAN STANDARDS
Each of our systems are designed and built to meet the AS2896-1998 and the new AS2896-2011 (released in February 2011) Medical Gas Systems requirements for medical/surgical vacuum systems.
AUSTRALIAN MADE
Becker Pumps Australia manufacture the Medical Suctions Systems right here in at our Brisbane Head Office.
CASE STUDIES
Please visit our Case Studies page for a list of Anaesthetic Gas Scavenge Systems manufactured by Becker Pumps Australia and installed throughout the country.

The Vacuum Pumps

SIDE CHANNEL PUMPS
All Becker Pumps Australia Anaesthetic Gas Scavenge Systems are fitted with high quality Side Channel Vacuum Pumps.
HIGH EFFICIENCY MOTORS
Most of our pumps use heavy duty high efficiency motors with class-F insulation as standard equipment.
MINIMAL VIBRATION
No need for anti-vibration mounts or expensive concrete pads.
ENCLOSED IMPELLER
This feature (only available on Becker's pumps) means that our pumps are more reliable.
LOW START UP CURRENT
When installing a system with VFD (refer below) there is a low start-up current which reduces the cost involved with installing a larger electrical circuit.
QUIET
An internal groove which is exclusive to Becker's Side Channel Pumps reduces the noise level and makes our units the quietest on the market.


AIR COOLED
All Becker pumps are air cooled, meaning no water is ever needed for cooling and operation.
NO WATER
None of our systems use water for any reason. Water and sewer charges are eliminated and water pollution is never a problem. Furthermore, your dependence on another utility is eliminated.
100% OIL FREE
There is no oil to fill, drain, change, or discard. No oil aerosols are ever present in the discharge air.
INTERGRATED RELIEF VALVE
Another item that is found within our Side Channel Pumps is an intergrated relief valve. This item is not installed on many of the other Side Channel Pumps in the market and many manufacturers and distributors of this type of pump do not even supply and external relief valve.

The Electronics

PROGRAMMABLE CONTROLLER OPERATED (PLC)
All functions in every Becker multiplex system are controlled by a PLC. No new EPROM is ever needed when expanding—once programmed, always programmed. If the PLC ever needs replacing, the system can be operated in manual mode.
VARIABLE FREQUENCY or SPEED DRIVES (VFD or VSD)
Whether fitted directly to our Variair range of vacuum pumps, or installed in the control box, Becker Pumps Australia uses Variable Speed Drives to ensure constant pressure, reduce your power consumption costs and increase the life of your pump to reduce maintenance costs. This is only available with oil-free vacuum pumps.
CONSTANT SUCTION
When using a VFD system you can acheive a constant suction rate in both the flow and the pressure.
ENERGY SAVINGS
Using a VFD system can save 35% of the running costs.

The Inclusions

PUMP ISOLATION VALVES
We include pump isolation valves to allow for a pump to be removed from the system for cleaning, maintenance and servicing.
VACUUM GAUGE
A 100mm diameter kPa gauge is standard. This is a bourdon tube style, stainless steel case with bronze connections.
MANUALS
All Becker Medical Suction Systems come complete with full manuals supplied in a hardcopy and soft copy. The manual includes the operating and maintenance instructions for the pumps, details about the PLC installed along with the key features it has been programmed to do, and other useful information about all the equipment as installed in your system.